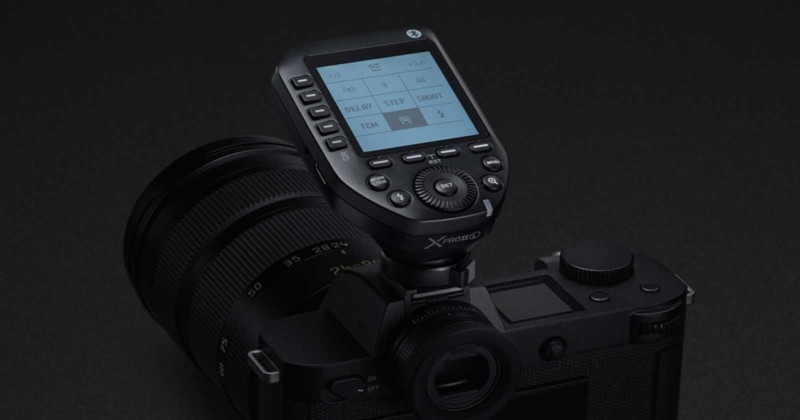 Godox has released a new wireless flash trigger that acts as a cordless go-between for Leica cameras and off-mounted Godox flashes.
The Godox XProIIL can connect via Bluetooth to the Leica S, SL, SL2, M10, Q2, CL, and cameras that have a PC sync socket. There is also the promise of more camera models being supported down the road.
The XProIIL uses a 2.4gHz X wireless transmission protocol and is compatible with Leica TTL and HSS, which allows photographers to trigger the flash with shutter speeds up to 1/8000 per second.
The XProIIL also supports high-speed, 1st, and 2nd curtain sync, and can adjust flash exposure compensation from -3 to 3 EV.
The transmitter is able to securely connect through up to 32 different encrypted radio channels and will scan for the strongest channels to choose from.
The XProIIL can also send a set wireless ID so that the flash is triggered without interference from other devices using the same flash array through multi-shooting mode, which translates to the XProIIL managing 16 groups on one of 32 channels and can then access 99 wireless ID settings for limiting interference from other nearby systems.
The camera has a backlit LCD screen, dedicated and programmable buttons, and a turn wheel that enables menu navigation and connection to supported cameras, plus the XProIIL can connect to the Godox Flash smartphone app for remote operation. The effective range of the wireless connection is 328 feet (100m).
The XProIIL also links to the Sekonic L-858 light meter using the optional RT-GX radio module, enabling the light readings to be transferred directly to the camera through the 2.4Ghz XProIIL.
Other features include a 2.5mm wired sync port, where the receiver end can control the camera shooting. There trigger also has a USB Type-C port for firmware updates, and the device is powered by AA batteries.
With a retail price of $129, the XProIIL is available for preorder with the shipping date still to be determined.