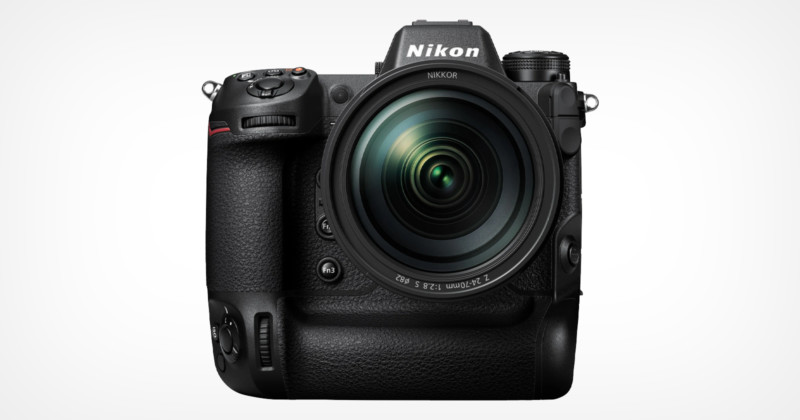 Nikon has published a firmware update for its flagship Z9 camera that increases the camera's ability to capture 20 frames per second in RAW plus JPEG mode for about 15 seconds without buffering, the longest in the industry.
Nikon's Z9 firmware version 1.10 was released today and its main goal is to improve the duration of high-speed continuous shooting. At launch, the Z9 was capable of capturing RAW and JPEG photos simultaneously for three seconds before the buffer would fill and it would slow the frames per second until it cleared. That is to say, that was what was believed to have been happening given how cameras like the Z9 have worked in the past.
That might not have been an actual hard limitation for the camera, however, as Nikon has increased the time the camera can continuously capture 20 frames per second by a factor of five: up to about 15 seconds. That means the camera can capture and write a total of 600 files (one set of 300 JPEGs and another set of 300 much larger RAWs) up from the previous 120. Nikon says this is the world's longest period of shooting at 20 frames per second, but stipulates the claim only encompasses cameras that have an image sensor that shoots 30 megapixels or larger.
These new duration benchmarks are also only achievable when RAW is set to "high-effeciency RAW" and JPEGs are sent to "Basic (L)." If changed to "High-Efficiency RAW★" and "Basic (L)" or "JPEG FINE (L)" combined to simultaneously with "JPEG BASIC (S)," there is still an improvement, albeit more modest: up to eight seconds of continuous shooting, which is a boost from the previous three seconds.
"The improvement of high-speed continuous shooting will further support the capture of decisive moments for fast-moving subjects in high resolution," Nikon says.
Download the Nikon Z9 Firmware Version 1.10
Nikon's software update to firmware 1.10 can be found for both Windows and Mac OS on Nikon's website along with a full description of all the changes.
Of the changes, Nikon says that an issue that prevented the SB-5000 flash units from synchronizing with the shutter has been fixed.
More Updates to Come
Nikon says that the promised future update that would bring a variety of video functions, as well as improved operability and functionality for both stills and video, is still in the works.
When the Z9 was announced last year, Nikon promised that a free firmware upgrade would be released in 2022 that will enable internal 8K 60p capture in a new 12-bit N-raw high-efficiency video format, 12-bit ProRes RAW, and other unspecified pro-level video features.