Nikon once again updated its Z lens roadmap, this time to coincide with the Z9 announcement. Alongside the three lenses that were just announced (the 24-120mm f/4, 100-400mm f/4.5-5.6, and 400mm f/2.8 development), we now have roadmap entries for five more Z lenses.
The Updated Nikon Z Lens Roadmap
The following is the latest version of the Nikon Z lens roadmap, announced on October 28, 2021: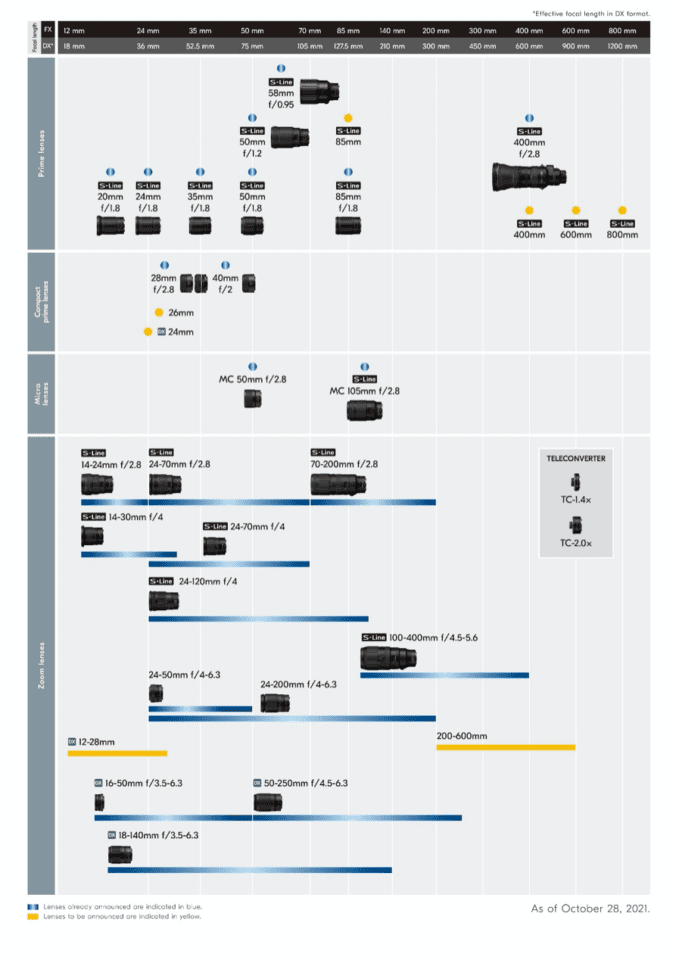 When releasing this roadmap, Nikon said it's an "expansion to 2023." However, there likely will be more lenses added or announced until 2023 that we don't know about yet, since eight lenses is a bit sparse to cover the next 26 months.
The lenses added to the roadmap most recently are:
An 800mm S-line prime lens
A 26mm compact prime lens
A 24mm compact DX compact prime lens
A 12-28mm DX wide-angle zoom
A 400mm S-line prime lens (not just the 400mm f/2.8)
The other unannounced lenses – all three of which have been on the roadmap for a while now – are:
A 600mm S-line prime lens
An 85mm S-line prime lens
A 200-600mm non-S zoom lens
The roadmap has changed a bit over the years. For example, here's how it looked in late 2019: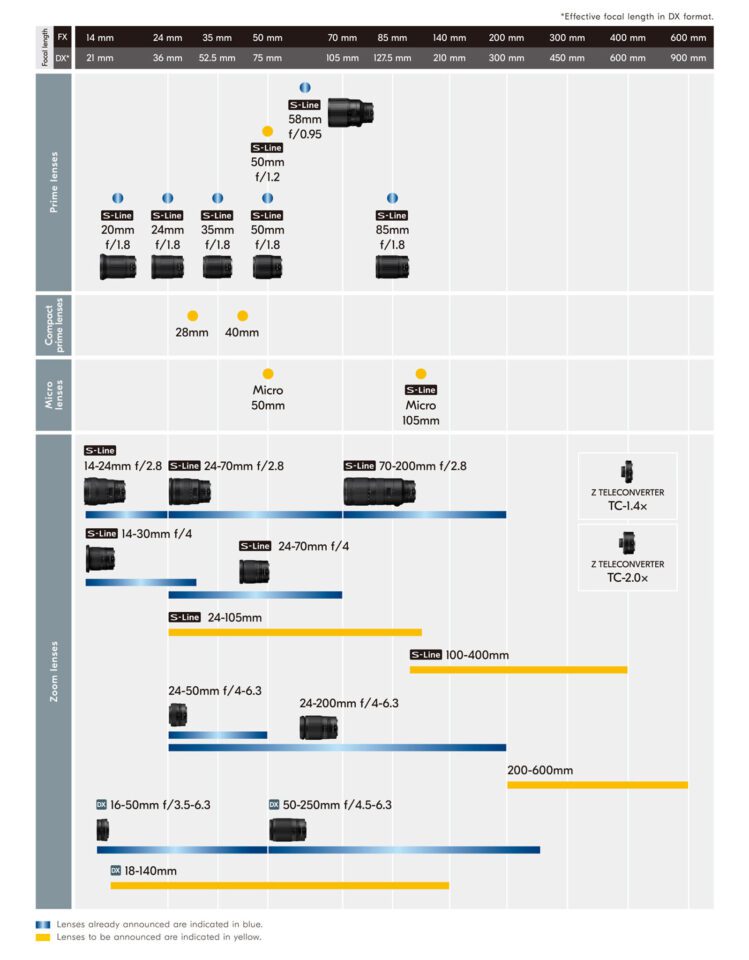 As you can see, in recent years, Nikon added another 85mm prime to the roadmap (likely an 85mm f/1.2 S) as well as all the other lenses I listed above. While the official specifications of the eight unannounced lenses remain unknown, it's likely that the 600mm telephoto will be an f/4 lens and the 800mm telephoto will be an f/5.6. With the 1.4x and 2x teleconverters already out, Nikon will finally have a nice set of supertelephoto glass, which is very exciting!
In total, every Nikon Z lens we know about is as follows. Lenses that have not yet been formally announced are marked in bold:
12-28mm DX
14-24mm f/2.8 S
14-30mm f/4 S
16-50mm f/3.5-6.3 DX VR
18-140mm f/3.5-6.3 DX VR
20mm f/1.8 S
24mm f/1.8 S
24mm compact DX
26mm compact
24-50mm f/4-6.3
24-70mm f/2.8 S
24-70mm f/4 S
24-120mm f/4 S
24-200mm f/4-6.3 VR
28mm f/2.8 SE
28mm f/2.8
35mm f/1.8 S
40mm f/2
50mm f/2.8 macro lens
50mm f/1.2 S
50mm f/1.8 S
50-250mm f/4.5-5.6 DX VR
58mm f/0.95 S
70-200mm f/2.8 VR S
85mm S (likely f/1.2)
85mm f/1.8 S
100-400mm f/4.5-5.6 S
105mm f/2.8 VR S macro lens
200-600mm (non-S lineup)
400mm f/2.8 S
600mm S (likely f/4)
800mm S (likely f/5.6)
1.4x Teleconverter
2.0x Teleconverter
We don't officially know the maximum aperture values of some of these lenses, but we can roughly tell what they are going to be based on their previous designs. Hopefully, Nikon will release more information on the other lenses soon.
When Are These Lenses Coming Out?
The new roadmap doesn't list any date projections for when the unannounced Z lenses will go on sale. However, it should be noted that the unannounced lenses which have been on the roadmap the longest are the 85mm S, 200-600mm, and 600mm S. It's possible that those three lenses will ship before the others.
At the same time, it is hard to predict what specific lenses will be announced later in 2021 versus 2022 or 2023 for a number of reasons. First, Nikon has released some surprises that were not previously on the roadmap (1.4x and 2x teleconverters, as well as the Nikon Z 24-50mm f/4-6.3 zoom). And second, given the current economic conditions and COVID-19, it might push new releases further into the future.
This graphic is also worth keeping in mind: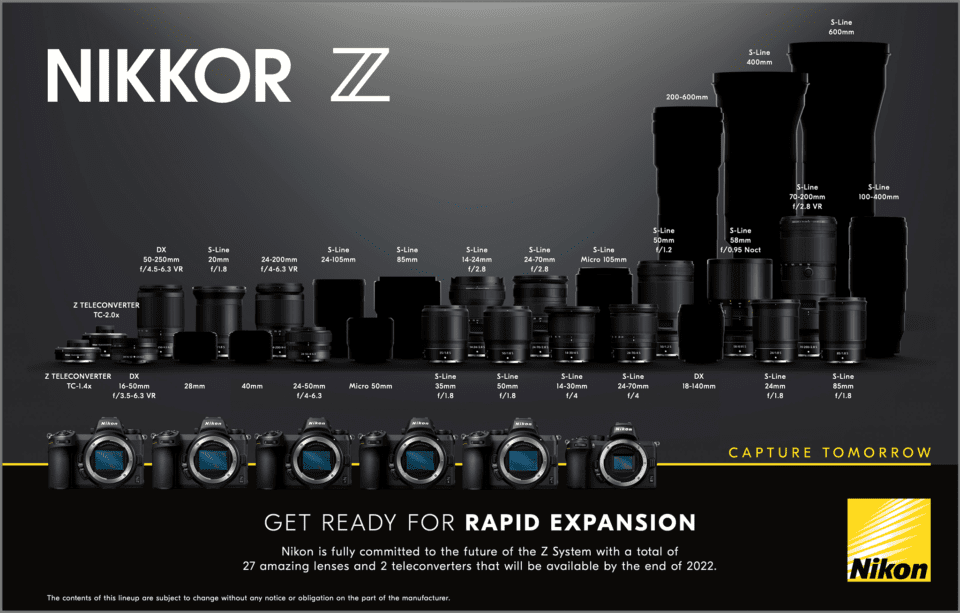 While it's a bit outdated – Nikon has since announced several of the hidden lenses – it's still useful for judging the shapes and sizes of ones that haven't been formally announced. There's also the quote at the bottom of the graphic that says Nikon will have 27 lenses by the end of 2022.
Analyzing the Future Lenses
A lot of Nikon's upcoming lens lineup looks very interesting. The high-end 600mm and 800mm S-line primes seem like they could be very impressive, especially if they are lighter and sharper than their F-mount counterparts. If they couple well with both the 1.4x and 2x teleconverters, especially when it comes to autofocus, it could be very exciting. Imagine being able to take sharp, properly focused images at 1200mm f/8 – it could be a game-changer!
It's also nice to see that Nikon is continuing with their line of compact prime lenses with the unannounced 24mm DX and 26mm FX lenses. Compact lenses pair very well with the lightweight Z cameras, and I'd love to see a comprehensive set of them some day. However, since there's already a 28mm f/2.8, I do wonder where the upcoming 26mm compact lens will fit in – maybe as an f/2 that's slightly bigger, or an f/4 that's a true pancake? In any case, it should be exciting to find out.
We also will be seeing another supertelephoto Z lens – the 200-600mm – which very well could win fans for wildlife and sports photography. Seeing as though it's not an "S" series lens, chances are good that it will mimic something like the Nikon 200-500mm f/5.6 VR, a well-regarded budget supertelephoto lens.
What Nikon really needs to push to its Z lens roadmap is a sharp and lightweight 70-200mm f/4 S. Nikon, please, make this a surprise announcement – it should have been on the priority list a long time ago, but especially now that the Z system is otherwise starting to look so complete. Two years ago, I already was calling the lack of a Z-series 70-200mm f/4 a "lingering issue" and "the most obvious lens that's missing." It feels even more glaring now.
Nikon Z Lenses Announced So Far
The list below keeps track of all the Nikon Z-mount lenses that have been announced so far, in order from least to most recent:
2018
2019
2020
Nikon Z 14-24mm f/2.8 S (our review)
Nikon Z 70-200mm f/2.8 VR S (our review)
Nikon Z 20mm f/1.8 S (our review)
Nikon Z 24-200mm f/4-6.3 VR (our review)
Nikon Z 24-50mm f/4-6.3 (our review)
Nikon Z 50mm f/1.2 S
Nikon Z 1.4x Teleconverter
Nikon Z 2x Teleconverter
2021
Nikon Z MC 50mm f/2.8 Macro Lens
Nikon Z MC 105mm f/2.8 VR S Macro Lens
Nikon Z 28mm f/2.8 (development announcement)
Nikon Z 40mm f/2 (development announcement)
Nikon Z 28mm f/2.8 SE (same optics as 28mm f/2.8)
Nikon Z 18-140mm f/3.5-6.3 DX VR (development announcement)
Nikon Z 24-120mm f/4 S
Nikon Z 100-400mm f/4.5-5.6
Nikon Z 400mm f/2.8 (development announcement)
If you want to find out more about the Nikon Z lenses, see Nikon Z Mirrorless Lenses page at Nikon USA.
Nikon Z Cameras
All the lenses above are Nikon Z mirrorless only, meaning they will not fit on any Nikon DSLR regardless of the adapter you use. At the moment, these are the only cameras which work with Nikon Z lenses:
Of these cameras, the Nikon Z50 and Zfc have a DX sensor (AKA 1.5x crop sensor), while the others have a larger FX camera sensor. However, all of Nikon's Z lenses fit on all of these cameras, DX or not. If you use one of Nikon's DX lenses on an FX camera, your photos will be automatically cropped to fit the DX area. See more at Nikon DX vs FX.